Well they do if your team captain is on the ball like Old Time Etsy's team captain–thanks Heather from janedean:
janedean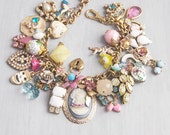 Look what a lovely landing page she's created for Etsy's team for folks who have been a member of Etsy since at least 2008 (buyers & sellers both welcome!)–the page will be ever changing I'm sure:
All the kinks aren't worked out yet–like:
you can only curate one of these pages per Etsy account even if you are captain of more than one team,
I don't think the embed feature does the page justice (see how the embed feature looks below),
there's no link to the page from within your team's regular pages and
the fact that the nice big name of the team at the top of the page only links back to itself instead of leading folks to the team's about/home page… So be sure to be a swifty like our team cap' and add a link to your team home page at the top of the description!
The embed tool produces this–not so exciting a representation as the page itself, but still not bad:
Read more about the team landing pages and how to get one for your team in the Captains' Quarters team. Here's hoping this tool will help us all promote our teams better!